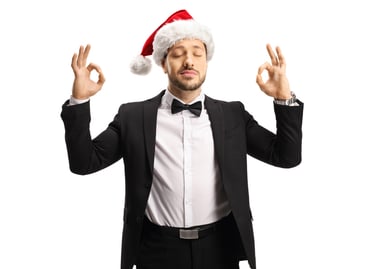 Overwhelmed by the mounting to-do list this holiday season? You're not alone. The holiday season comes with what seems like a never ending list of additional responsibilities. Holiday stress is a real thing - and something that you can manage if you follow a few tips and tricks.
A 2015 Healthline study found that 62% of those surveyed said their stress levels were elevated during the holiday season. Researchers cited the main stressors this time of year as - finances, family dynamics and keeping fit.
Now that you know that festive stress is real, and something that many people suffer from, here are 7 tips to reduce stress this holiday season:
1. Planning
To prevent rushing around at the last minute, take some time to plan out your holidays. If there are activities that are not necessary, then eliminate them from the plan. Discuss what activities your family most enjoys and then write them down in your holiday planner. Saying yes to every event that you are invited to is a sure way to get overwhelmed. A well-written plan with a calendar can go a long way to retaining your sanity this holiday season.
2. Ditch the Perfectionism
Trying to make this holiday the best ever is unreasonable. If something goes wrong, which it will, then you'll blame yourself. Instead, be realistic and flexible when it comes to plans. There are often a lot of people involved in festive gatherings, and preferences differ. This can mean that traditions might need to be altered to suit guests. If someone in your family can't come to dinner, then you could speak to them over Facetime or send videos to each other. Get creative and flexible this holiday season. Try to roll with it and have fun.
3. Stay Healthy
It's common for people to ditch their healthy habits during the holiday season. This can lead to feeling guilty, which adds to holiday stress. Prioritize your healthy habits by taking time to exercise every day. You can also eat some healthy food before going out, so that you don't overindulge at holiday parties. Avoid the temptation to postpone your health until the new year.
4. Budget Wisely
Decide how much you can spend before you go on a shopping trip. It's a good idea to overview all of your holiday expenses ahead of time. Make sure to include party clothing, decorations, presents, meals, parties and the amount of money you will need over the festive break.
If you find yourself short of a few dollars, why not make some handmade gifts or have fun together by doing an activity? Stick to your budget so that you know exactly what you are spending during the holiday season, and keep track of what you spend. Relax, safe in the knowledge that you have budgeted enough money for the holidays.
5. Prioritize Self-care
The holiday season can be difficult for some, especially for people with an existing health condition. Take it easy, you don't have to do it all. The holiday season can bring up old feelings, and lead to depression and anxiety for some. Don't over-do it. If you're feeling overwhelmed, take a breather, go for a walk in nature, read a book or spend some time alone.
If you're really struggling then ask for help. Whether that be from a friend or family member, or a doctor. Looking after yourself mentally and physically is a priority at any point of the year. Sometimes you need to force yourself to make time for self care. Schedule self-care in your calendar and make it a non-negotiable.
6. Be Grateful
Having an attitude of gratitude can turn things around. This holiday season, think about everything that you are grateful for, rather than your dislikes. Focus on what makes people special and why you are grateful for them in your life. Even if that is the fact that they improve your patience.
It's not time to discuss problems or old grievances at christmas. Set them aside and accept that everyone is on a different stage in their journey. Instead of judging or thinking about bad experiences, be compassionate. Understand that everyone has their own underlying problems, and avoid controversial conversations. Ditch the conflict, at least for the duration of the holidays.
7. Take Your Supplements
As we've discussed, Christmas is a stressful time of year for most people. Stress is a key factor in the progression of disease, due to the added burden on your metabolism. Make sure to eat a balanced diet, add in some green juices and take your vitamins during the holidays. The best vitamins to take to mitigate stress are vitamin C, B vitamins, zinc and magnesium. L-theanine is also great if you are looking to calm your central nervous system down. Strengthen your body with good nutrition to overcome festive stress.
The Bottom Line
Festive stress can make the holiday season a burden rather than the joy that it should be. Make sure to prioritize your own health and wellbeing to ensure that you can enjoy the festivities. Planning ahead, budgeting and setting boundaries will set you up for a more positive experience, where you feel in control. Give yourself the gift of organization and health this holiday season so that you can have lots of fun!

Related Biotics Research Products: