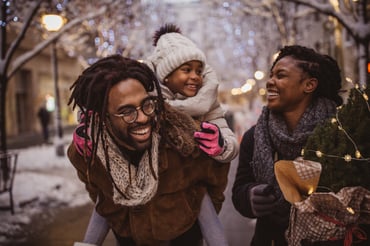 The holiday season has traditionally come with loads of stress, and now we're adding the complications of a pandemic to the mix. Overwhelmed? You're not alone. Holiday stress is a real thing, particularly magnified this year, but something that can be managed with a few tips and tricks.
A 2015 Healthline study found that 62% of those surveyed said their stress levels were elevated during the holiday season. This year, researchers cited the main stressors this time of year as - staying healthy, finances, family dynamics, and worrying about the future.
One study written by US Highbush Blueberry Council defines stress this time of year as "Festive Stress" and can be divided into three phases:
Stage 1 - Dec 13, mild festive stress
Stage 2 - Dec 18, severe festive stress
Stage 3 - Dec 25, stress peaks
Knowing how festive stress progresses will allow you to prepare and alleviate some of the pressure. According to the Highbush study, festive stress lessens when you sit down to eat your Christmas dinner (or other celebrated holiday meal).
Now that you know that festive stress is real, and something that many people suffer from, here are 7 tips to reduce stress this holiday season:
1. Planning
To prevent rushing around at the last minute, take some time to plan out your holidays. So much has been disrupted, leaving much to the unknown and making it more challenging to plan. But allow this time of limited public celebration to work in your favor. Think of the silver linings since saying yes to every event invitation can be a source of stress. Instead, discuss with your family and friends what might be reasonable social gatherings and plan ahead so you can feel good about your celebrations.
2. Ditch the Perfectionism
Trying to make this holiday the best ever is unreasonable. If something goes wrong, which it will, then you'll blame yourself. Instead, be realistic and flexible when it comes to plans. Many plans are being turned upside down this year, so remember to stay flexible during this time. If you're limiting social gathering, schedule your time together over Facetime or send videos to each other. Get creative and flexible this holiday season. Try to roll with it and have fun.
3. Stay Healthy
During a normal holiday season, many people worry about staying healthy. With the threat of Covid on our heels, it's more important than ever not to ditch healthy habits. Overeating or making excuses not to exercise can lead to feeling guilty, which adds to holiday stress. Prioritize your healthy habits by taking time to exercise every day. Although there won't be as many holiday parties for overindulgence of food and drink, stress can trigger overeating, especially during the holidays. Avoid the temptation to postpone your health until the new year and practice healthy habits every day.
4. Budget Wisely
Decide how much you can spend before you go shopping. It's a good idea to plan all of your holiday expenses ahead of time. Make sure to include clothing, decorations, presents, meals and the amount of money you will need over the break.
If you find yourself short of a few dollars, why not make some handmade gifts or have fun together by doing an activity? Stick to your budget so that you know exactly what you are spending during the holiday season, and keep track of what you spend. Relax, safe in the knowledge that you have budgeted enough money for the holidays.
5. Prioritize Self-Care
The holiday season can be difficult for some, especially for people with an existing health condition. Take it easy; you don't have to do it all. The holiday season can bring up old feelings, and lead to depression and anxiety for some. Don't over-do it. If you're feeling overwhelmed, take a breather, go for a walk in nature, read a book or spend some time alone.
If you're really struggling, then ask for help whether it's from a friend or family member, or a doctor. Looking after yourself mentally and physically is a priority at any point of the year, but it's particularly important now. Sometimes you need to force yourself to make time for self-care. Schedule self-care in your calendar and make it a non-negotiable.
6. Be Grateful
Having an attitude of gratitude can turn things around. As challenging as it can be, think about everything that you are grateful for, rather than your dislikes. Focus on what makes people special and why you are grateful for them in your life. Even if that is the fact that they improve your patience.
It's not time to discuss problems or old grievances during the holiday season. Set them aside and accept that everyone is on a different stage in their journey. Instead of judging or thinking about bad experiences, be compassionate. Understand that everyone has their own underlying problems, and avoid controversial conversations. Ditch the conflict, at least for the duration of the holidays.
7. Take Your Supplements
As we've discussed, this time of year is stressful for most people, particularly with everything going on in the world. Stress is a key factor in the progression of disease, due to the added burden on your metabolism. Make sure to eat a balanced diet, add in some green juices, and take supplemental nutrients during the holidays. To promote relaxation, consider adding vitamin C, B vitamins, zinc, magnesium and a full-spectrum hemp product. L-theanine is also great if you are looking to calm your central nervous system down. Strengthen your body with good nutrition to overcome festive stress.
The Bottom Line
Festive stress can make the holiday season a burden rather than the joy that it should be; and we need to focus on the joy, particularly this year! Make sure to prioritize your own health and well-being to ensure that you can enjoy the festivities. Planning ahead, budgeting, and setting boundaries will set you up for a more positive experience, where you feel in control. Give yourself the gift of organization and health this holiday season.
Related Biotics Research Products: