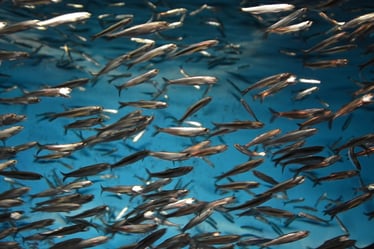 This is part two of a two-part series on omega-3 fatty acids and fish oil. In part one, we explored the reasons to take fish oil.
Throughout evolution, humans have consumed diets heavy in fish—meeting their dietary need for not only omega-3, but specifically EPA and DHA. Western diets, however, have evolved to where fish consumption is at a staggering low. These physiologically-essential nutrients that were once readily available—and consumed often—have become a nutritional deficit for many. Thus, a supplemental dietary solution was needed. That solution is fish oil.
According to the National Institute of Health, fish oil is the most popular natural product used by adults in the United States. Annual sales clock in at about $1.2 billion—three times greater than glucosamine, the number two highest selling natural product. With the continued surge in fish oil's popularity, it's more important than ever to keep a close eye on quality. Let's look at the dilemma facing fish oil producers and what consumers need to know to choose the best quality fish oil for their dietary needs.
The fish oil dilemma—and what you can do about it
50 percent of omega-3 fatty acid supplements recently purchased by researchers in Canada failed tests for freshness and exceeded the limits for oxidation. What lead to this eye-opening discovery? Fish oil is sometimes processed continents away from where the fish were originally harvested. When exposed to air and light, fish oil degrades and becomes rancid. Plus, longer transit times exacerbate the risk of oxidation. Further to this dilemma is the issue of sustainability. Fisheries claim sustainable practices, but oftentimes oils are mixed with concentrates from unsustainable sources.
So, what does this mean to you as a consumer of fish oil? Transit and production times matter if you want to purchase the freshest fish oil available. When possible, purchase fish oil that's sourced and produced in close proximity to one another. Also, be conscientious of buying sustainably-sourced products. They're not only better for you, they're better for the environment, too.
How much fish oil should I take?
Outside of your specific dietary and health needs, a healthy adult aiming to improve aging muscle function, optimize healthy triglyceride levels, or vascular function should consume four grams of EPA/DHA per day. Adults wanting to bolster cell membrane health should take four to six grams of EPA/DHA per day for the first three months, then decrease that daily intake to two grams for longer-term maintenance.
Those patients who need support for joint health, three grams of EPA/DHA per day is recommended. If you're pregnant, I recommend two grams of EPA/DHA per day. For those looking to bolster mental health and brain function, anywhere from two to six grams of EPA/DHA per day is recommended. Finally, the suggested daily dose for those in need of neuropathic support is six to eight grams.
I also recommend taking a combination of fish oil and probiotic supplements. Here's why: Omega-3 helps probiotics stick to intestinal cells and boost libido. Meanwhile, probiotics increase EPA/DHA levels in the brain. Combined, fish oil and probiotics work together to support optimal blood sugar levels, lipid profiles, and cardiovascular disease markers.
As the number one natural supplement in the U.S., fish oil has helped solve a major deficiency in the modern Western diet. With popularity, however, comes drawbacks. Consumers buying fish oil must stay informed in order to make smart decisions for their health. As always, consult with a functional health practitioner to determine the accurate dosage of fish oil for your individual needs and to ensure you are purchasing the best quality fish oil for overall efficacy and long-term health benefits.
Robert G. Silverman, DC, MS, CNS, CCN, CSCS, CKTP, CES, CIISN, DACBN, DCBCN, HKC, FAKTR
Related Biotics Research Products:
Come See Dr. Silverman speak LIVE at one of these Biotics Research upcoming seminars:
EPIC Functional Medicine Conference - May 3-4 - J.W. Marriott Downtown Houston - Houston ,TX
The Gut-Brain Axis in Health and Disease - March 30 - Embassy Suites Hotel LAX North - Los Angeles, CA
The Gut-Brain Axis in Health and Disease - May 11- DoubleTree San Francisco Airport North - Brisbane , CA