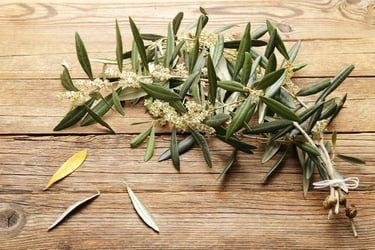 Respiratory complications are a common occurrence with a seasonal rhythm around the world. Because pulmonary inflammation is a hallmark of many respiratory complications, the objective is to support normal inflammatory pathways specific to pulmonary health.
A variety of botanical preparations have been reported as useful nutritional adjuncts for protocols designed to help normalize immune processes and support the health of patients with viral infections. Many substances derived from plants have biological effects in vitro and in vivo, such as flavonoids, alkaloids, and terpenoids. Herbal-derived natural products are increasingly being used in scientific studies to evaluate the value of these compounds. Herbs and other botanicals contain complex biologically active compounds that interact with a myriad of physiologic systems, biochemical pathways and immunological processes in the body.
The following ten botanicals have been shown in research studies to support healthy lung function:
Fritillaria
Fritillariae Thunbergii Bulbus is in the Lily family and has been widely used as an herb to support pulmonary relaxation for thousands of years in China. Historical records dating back to the Ming Dynasty in China indicate that it acts to support pulmonary health. Many studies have identified 134 chemical constituents and demonstrate numerous actions including: support of healthy inflammatory pathways, high in antioxidants and tracheobronchial relaxation.
In addition, a more recent study on Chronic Obstructive Pulmonary Disorder (COPD) showed that an isolated alkaloid from fritillaria optimized pulmonary function and supported a healthy inflammatory response.
Platycodon
The extracts and pure saponins from the roots of Platycodon grandiflorum are reported to have a wide range of health benefits. In Korea, platycodon roots are typically cultivated for 4 years and are used to treat bronchitis, asthma, pulmonary tuberculosis, diabetes, and inflammatory diseases. In traditional Chinese medicine, platycodon is used as an expectorant and antitussive to treat coughs, colds, sore throats, tonsillitis, and chest congestion. Saponins isolated from the roots have been shown to have potent antioxidant activities.
One study showed that extracts of platycodon can regulate the production and secretion of airway mucin which, at least in part, explains the traditional use of the root as an expectorant.
Skullcap
Scutellaria baicalensis, and in particular its baicalin flavonoid compound, has been shown to possess a potent inhibitory activity against pathogens. It has a long history of use and is featured in numerous herbal formulas due to its efficacy. In a study on the H1N1 influenza virus, it acted on viral replication and induced production of NK and T cells.
Another study showed that scutellaria attenuated airway remodeling in rats with cigarette smoke-induced COPD, significantly improving airway remodeling by supporting healthy airway inflammation. A third study demonstrated that baicalin from scutellaria is an important immune modulator.
White Mulberry
Morus alba fruit has a long history of use as an edible fruit and traditional medicine. A wide diversity of bioactive compounds, including rutin, quercetin, chlorogenic acid, and polysaccharides, have been found in the fruit. Furthermore, mulberry has shown numerous biological activities.
The antagonistic activities of Morus alba juice and seed were examined against influenza viruses with gallic acid, a compound of mulberry, revealing a particularly significant antiviral effect. Mulberry is rich in polyphenols and anthocyanins. In addition, mulberry root bark showed dual antagonistic activity in a 2016 study towards undesirable pathogens.
Olive Leaf
Olea europaea has exhibited strong antiviral effects in numerous studies. Buds and leaves of olive trees contain oleuropein, a phenolic glycoside, and rutin, luteolin and hesperidin - flavonoid glycosides. The latter flavonoids possess well-defined antioxidant properties and affect aspects of the vascular system as well as the immune system. Oleuropein is the bitter principle of green olives.
One study in particular demonstrated a strong anti-plasmodial activity. Another study looked at the effect of olive leaf extract on upper respiratory illness in high school athletes. While the study notes that the dietary intakes of the athletes was sub-optimal for immune support, the olive leaf group showed a significant reduction in the number of sick days.
Andrographis
Andrographis paniculata is a tall, flowering plant that originated in India, but is now grown in China as well. Most commonly, it has been used for digestive and immune support.
A research team at the University of York reviewed seven controlled trials and concluded that andrographis may be an effective component to support people with upper respiratory tract infections with few adverse effects. Another study demonstrated that andrographis can modulate Th1 and Th2 cytokine ratios, which suggests an immunomodulating effect.
Picrorhiza
Picrorrhiza kurroa roots and rhizomes contain a mixture of flavonoids. The rhizome of picrorrhiza scrophulariiflora is used in a traditional herb in Asian countries and has been shown to support inflammatory pathways.
In a study with mice with acute lung injury, the authors concluded that picrorhiza showed promising effects of supporting growth of healthy lung tissue and normal lung wet/dry weight ratios.
Turkey Tail Mushroom
Trametes versicolor is predominant in woodlands throughout the world. Mushrooms have been used for centuries, showing a wide spectrum of beneficial properties. Turkey tail is known for supporting the immune system due to its unique polysaccharides.
Turkey tail has been used to support lung health for centuries. In Japan, turkey tail is used to strengthen the immune system when given with care protocols that can potentially compromise the immune system. A 2019 study demonstrated the immune-activating, immune-modulating and healthy inflammation support bioactivity.
Black Walnut
Originating in Asia, Juglans nigra has a history of use in Greek and Roman traditions. Black walnut leaf supports the immune system and normal tissue repair processes and supports healthy inflammation. A research study evaluated the protective effects of black walnut against cigarette smoke extract-induced lung toxicities in rats, demonstrating significantly increased levels of reduced glutathione (GSH) and showing high free radical scavenging potential as an antioxidant.
Osha
Ligusticum porteri contains a number of compounds with aromatic character. Osha has long been used in folk traditions in Southwestern United States and Northern and Central Mexico. Ligusticum is also known as the Chinese lovage, and is one of the most popular herbs in China and Korea, where it grows wild and has been cultivated for centuries. The root and rhizomes are traditionally used in herbal blends. A systematic review showed that, among other benefits, Osha exhibits pro-relaxing, antioxidant effects and also supports healthy inflammation. Another review showed it as being a potent adaptogenic herb.
The above botanicals exhibit low toxicity and have a good safety profile. Formulas combining these ingredients into synergistic combinations may be useful for supporting our overall health during the cold and flu seasons where viral exposure is typically higher.
Related Biotics Research Products: